What Distinguishes Our Academic Medical Enterprise:
Excellence in Core Research Areas: The GW academic medical enterprise is at the leading edge of high-impact medical and health sciences research and a leader in the translation of discoveries into clinical care and improved health equity. Our future prioritizes areas of strength which will drive growth and excellence in research – from discovery to implementation.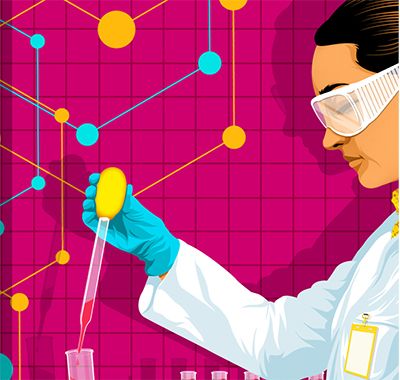 ---
Research is a foundational pillar of our academic medical enterprise and the GW University. We are a community of investigators, and our strategic plan supports our research mission. Our path forward will enhance the research workforce, grow multi-PI programs, expand enabling facilities, partner to recruit and sustain diverse faculty, staff, and students, and increase school-university collaborations. These endeavors place an emphasis on excellence to promote our mission, vision and core values as an institution.
---
Goal 4: Cross-Disciplinary Research
Promote an innovative and impactful cross-disciplinary research programs.
Research activity and scholarship has grown significantly at SMHS and MFA in the last 7 years providing a base from which to imagine new opportunities. To fully achieve our goal to enhance the health of our communities and the nation, integrated programs that accelerate research growth and link discovery, clinical, community and education research will be implemented.  
Action 4.1

Take advantage of our DC location to develop expertise and assert GW SMHS leadership in Federal research policy, innovation, transparency and health equity. Continue growth in foundational science. Establish clinical and translational research excellence; Build community responsive studies.

Metric(s):
Increase the number of investigators by 10% over five years; establish sustainable centers, programs and departments; relate to DC Health outcomes.
Timeline:
2022-2026
Status:

IN PROGRESS

SMHS has approximately 120 investigators among 4 basic, 4 health sciences and 14 clinical departments, with approximately $50 million in expenditures in FY 2022.

Achieved: recruitment of Cancer Center Director (2021), Vaccine Center (2022), resumed faculty hires
In progress: recruitment of chairs and vice chairs (anatomy, pharmacology and physiology, etc.), further investments in cancer
Future Activities: Translational Neuroscience, (2023), Immunotherapy (2024)

Action 4.2

Increase representational diversity and inclusion among staff, faculty and student researchers. Recruit, welcome, and retain under-represented scholars. Develop pathway programs that support inclusion of marginalized and underrepresented groups with extramural support.

Metric(s):
Establish SMHS in the top quartile for diverse research workforce; enhanced research climate survey outcomes.
Timeline:
2023-2026
Status:

IN PROGRESS

Achieved: Existing diversity pathways programs (Summer Program to Advance Research on Cancer (SPARC), Mentored Experience To Expand Opportunities in Research (METEOR); Committees (Diversity Equity faculty committee 2022; Anti-Racism Coalition (ARC)
Future goals: goals for PREP program, R25 programs to engage community.

Action 4.3

Increase the breadth of training and effective mentoring pathways. Partner with other GW schools and institutions (including School of Engineering & Applied Science, the School of Public Health, Children's National and the DC VA) for cross-disciplinary research programs. Establish financial mechanisms to effectively manage multi-school research training programs.

Metric(s):
Pursue extramurally funded training program in areas of strength. Establish faculty mentoring programs in all basic, clinical and health science departments for all assistant professors. Develop leadership programs for midlevel and senior faculty.
Timeline:
2023-2026
Status:

IN PROGRESS

Department equity leaders in clinical departments
Faculty mentoring committees in four basic science departments

Action 4.4

Raise endowment funds to support student and resident research projects and presentations.

Metric(s):
Generate support for up to 5 trainee projects/presentations/year
Timeline:
2023-2026
Status:
Augment current Gill Summer Fellowship and HS support.
IN PROGRESS
Goal 5: Prepare the 21st Century Research Workforce
Enhance career pathways for the 21st Century research workforce.
The success of our research enterprise reflects the quality of the research teams. A premier academic medical center requires a vibrant community of research faculty and staff, trained with competencies for the future that are appropriately rewarded and effectively supported. 
Action 5.1 

Develop researchers with skills to meet emerging needs and careers in medicine and health. Increase engagement with clinical trials, and diversify training programs for foundational, clinical and translational research. Develop financial management to support research protected time.

Metric(s):

Onboard investigators and research leaders in each clinical department;

Double the number of NIH Career Development (K) grants with in 5 years, earn NIH T32 postdoctoral training grants in areas of strength.

Timeline:
2022-2028
Status:
IN PROGRESS

Active recruitment for research chairs, faculty and staff in basic and clinical departments.

Action 5.2

Promote workforce development policies and process for education and promotion of faculty and staff, ensure access for research career pathways and retain excellence.

Metric(s):
Achieve salaries in the top 60% (AAMC Northeast) for active research faculty; develop DC competitive salaries and benefits for staff.
Timeline:
2022-2025
Status:

IN PROGRESS

Annual equity review for faculty in basic sciences, goal for clinical faculty; market-value for staff

Action 5.3

Promote GW as the place to build your research career. Sustain faculty, staff and students with lifestyle and wellness programs. Elevate workforce for national recognition and prizes. Ensure a safe research environment, free of harassment and bias.

Metric(s):

Reduce faculty and staff attrition to below national average.

Maximize research employee satisfaction to above national average.

Timeline:
2022-2026
Status:

IN PROGRESS

Programming in the Center for Faculty Excellence, Establishment of Center for Resiliency and Wellbeing, Monitor exit interviews.
Goal 6: Effective Institutional Structures and Shared Resources
Catalyze researchers' productivity through supportive administrative structures and shared resources.
An outstanding research environment is characterized by the availability of state of the art equipment for discovery as well as effective administrative processes. We will strive for timely personnel recruitment, contract negotiation and access to cutting-edge technology to remain a competitive research institution.
Action 6.1

Enhance essential processes and offices to support research including Human Resources, Information Technology, Grants and Contracts and Finance. Ensure timely research faculty and staff hiring. Reduce the time to initiation for industry sponsored clinical trials.

Metric(s):
Measure and reduce time for recruitment from ad to onboard; Track the time for clinical trial start up; Collaborate with support services to develop research-oriented responses.

Timeline:
2022-2028
Status:

IN PROGRESS

Work with University leadership to identify research champions in essential services, the Office of Clinical Research (OCR) is tracking clinical trial start up time and identifying barriers.

Action 6.2

Coordinate enabling cores to support researchers' needs for cutting-edge tools and facilities led by experienced staff. Support clinical investigation with essential tools. Ensure oversight and sustained funding.

Metric(s):
Annual evaluation of use, needs and satisfaction; review process to acquire new equipment for needs; obtain partial extramural funding support; % costs on user grants.

Timeline:
2023-2026
Status:

IN PROGRESS

Achieved: shared equipment user group established (2022); OCR established (2021); New confocal microscope funded (2023)
In Progress: Extramural Research Facilities Improvement Program grant (CO6) (2023) submission; Establish user review groups to monitor needs; common sign up and support.
Goal 7: Innovation in Research
Conduct innovative science, medicine and health science research and scholarship.
As an academic medical center, we have a unique opportunity to build innovative research and scholarship across a broad spectrum of health-related disciplines. National recognition for selected programs will enhance our overall research reputation.
Action 7.1

Focus on specific clinical areas to build reputation. Establish Vice Chairs for Research and scientific review committees. Engage with GW Academic Medical Enterprise Centers of Excellence for integration. Increase individual scholarship. Expand educational scholarship to highlight success. Take advantage of our DC location to develop research policy programs.

Metric(s):

Increased US News and World Report, NIH funding, other rankings

Use and satisfaction with Center for Faculty Excellence programs, faculty prizes, alternative metrics that identify team science, impact on health

Timeline:
2023-2026
Status:

IN PROGRESS

Achieved: Associate Dean for Evaluation appointed 2021

Action 7.2

Promote our reputation through effective communication, marketing and development programs that engage faculty, students and staff. Showcase research to the community and potential donors. Build internal communications (i.e. market share, rankings, registries) as well as external communications (increase patient visits, program applications, donors, etc).

Metric(s):
Number and placement of reputational communications, increased development interactions.
Timeline:
2023-2026
Status:

IN PROGRESS

Bi-monthly research/communications meetings; Research Showcase.